About Us
This delightful takeaway serves a wide range of international cuisine including Pizza, Pasta, Kebabs, Salads, Baguettes and Desserts. We recommend you sample the delicious 'Tagliatelle Seafood', which is pasta with mixed seafood, tomato sauce and a touch of cream.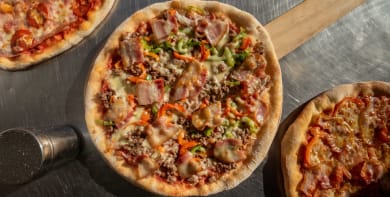 Reviews
Brian
"Excellent food very reasonably priced"
08/11/2020
Bernadette
"Fantastic food and superb flavour. Felt like being in a restaurant while at home. Will definitely order again."
22/09/2020
Trish
"Pizza was definitely homemade and delicious!"
13/09/2020
Menu
Contact Us
Find Us
45 Sundrive Road, Dublin 12, CRUMLIN
Opening Hours
Please note, delivery times may vary.
We deliver to
Arbour Hill, Arran Quay, Ballsbridge, Ballyboden, Ballycullen, Ballymount, Blackpits, Bluebell, Broadstone, Castletymon, Chapelizod, Christchurch, Churchtown, Churchtowncastle, Churchtownlandscape, Churchtownnutgrove, Churchtownorwell, Churchtownwoodlawn, Clondalkin, Clondalkinballymount, Clondalkinmonastery, Clonskeagh, Clonskeaghfarranboley, Clonskeaghmilltown, Crumlin, Dartry, Dolphins Barn, Donnybrook (Dublin), Drimnagh, Dublin 1, Dublin 2, Dundrum, Dundrumsweetmount, Firhouse, Firhouse Village, Firhouseballycullen, Firhouseknocklyon, Goldenbridge, Grand Canal Dock, Greenhills, Harolds Cross, Inchicore, Inns Quay, Irish Town, Islandbridge, Kilmainham, Kilmainham (Dublin), Kilnamanagh, Kimmage, Knocklyon, Longmile Road, Mansion House, Maryland, Merchants Quay, Milltown (Dublin), Naas Road, North Circular Road, Nutgrove, Pembroke, Perrystown, Phibsboro, Phoenix Park, Portobello, Ranelagh, Rathfarnham, Rathfarnham Village, Rathfarnhamballyroan, Rathfarnhambutterfield, Rathfarnhamhermitage, Rathfarnhamst. Enda's, Rathgar (Dublin), Rathmines, Red Cow Roundabout, Rialto, Ringsend, Royal Exchange, Saint Kevin's, Sandymount, Smithfield, South Dock, Sth Circular Rd (D8), Stoneybatter, Tallaght Village, Tallaghtglenview, Tallaghtkilnamanagh, Tallaghttymon, Templeogue, Templeogue Village, Templeoguecypress, Templeoguekimmage Manor, Templeoguelimekiln, Templeogueorwell, Templeogueosprey, Terenure, Terenurecherryfield, Terenuregreentrees, Terenurest. James, The Coombe, Tymon North, Ushers, Walkinstown, Warrenmount, Wood Quay